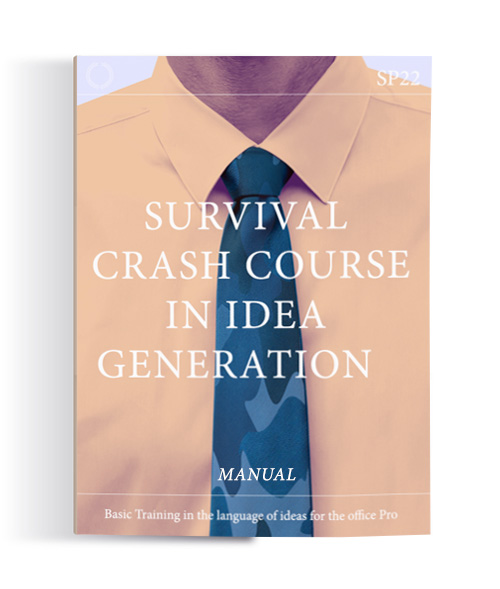 Basic Training in the language of ideas
9 weeks hybrid, 2-3 hrs per week (on site and online combined)
Apply now for Spring 23 edition
Testimonials: "Refreshing perspective on ideas and an effective tool to methodize the process of generation of ideas". R&D engineer at IMEC
Course Content: In the course your instructor/ idea expert takes you (regular office pro) on a crash course in on-the-job idea-ing.
Consider the following as you read on.
Your left brain has received a solid 20 plus years of training, your right brain, 0.
Your left brain has clever tools such as math, language, and science. Faced with everyday, open-ended, slightly more complex questions, and we wind up staring at a canvas or clutching small pieces of sticky yellow paper.
For all of the business processes that deal with complex issues, we have overlooked the foundational element of it all, 'the idea'.
Generating and developing ideas is not a mystical talent but a common skill, with a finely tuned instrument. You.
This course will show you how to harness the power of ideas for when the shit hits the fan. In short, it will ensure your career survival.
Whom: Each person thinks differently and can therefor develop unique ideas. All you need is some instruction to re-activate this part of your right brain. This is a course for all professionals; it is not specifically targeted at creatives.
What:The goal of the course is to enable you to apply your personal idea-ing skills fast- to complex issues as well as daily operations. From meetings to new projects as well as strategic and creative processes. Through this course you will learn to direct associative thinking at will, improving your ability to generate powerful ideas. To cultivate them and finally set them free. To become independent in your original thinking. Finally it will teach you to speak the language of ideas.
How: The online course has a practical set up with minimal preparation. All content is configured in weekly class modules where you immerse yourself in the content immediately applying the knowledge you've learned. Time investment 2-3hrs per week with optional supplemental material such as video lectures and keynotes. 
Format: we teach in small groups with lots of interaction between participants as well as personal feedback.
weekly group, alternate on site meetings and online classes with the instructor containing both theory and exercises
weekly online, Q&A sessions 
a shared learning experience with other professionals
online course platform to share learnings, connect with others- filled with supplementary material 
a copy of the Survival Handbook of Office Epiphanies written by yours truly
a certificate of completion

apply now-Survival Crash Course in Idea Generation- 2023 edition